The Great Smoky Mountains Nations Park
Great Smoky Mountains National Park is a United States National Park and UNESCO World Heritage Site that straddles the ridgeline of the Great Smoky Mountains, part of the Blue Ridge Mountains, which are a division of the larger Appalachian Mountain chain.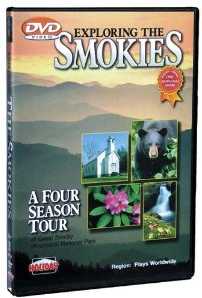 Explore the Smokies
A Four Season Tour
Click for Preview.
The border between Tennessee and North Carolina runs northeast to southwest through the centerline of the park. It is the most visited national park in the United States. On its route from Maine to Georgia, the Appalachian Trail also passes through the center of the park. The park was chartered by the United States Congress in 1934 and officially dedicated by President Franklin Delano Roosevelt in 1940. It encompasses 814 square miles, making it one of the largest protected areas in the eastern United States.
The main park entrances are located along U.S. Highway 441 (Newfound Gap Road) at the towns of Gatlinburg, Tennessee, and Cherokee, North Carolina. It was the first national park whose land and other costs were paid for in part with federal funds; previous parks were funded wholly with state money or private funds.
Before the arrival of European settlers, the region was part of the homeland of the Cherokee Indians. Frontierspeople began settling the land in the 18th and early 19th century. In 1830 President Andrew Jackson signed the Indian Removal Act, beginning the process that eventually resulted in the forced removal of all Indian tribes east of the Mississippi River to what is now Oklahoma. Many of the Cherokee left, but some, led by renegade warrior Tsali, hid out in the area that is now the Great Smoky Mountains National Park. Some of their descendants now live in the Qualla Reservation south of the park.
Article Sponsor - Phoenix Pro Nails The Best Little Nail Salon in the Smoky Mountains.
Related Article Links
American Indian Articles Index | Indigenous Peoples' Literature
Disclaimer: The American Indian Heritage Foundation or Indians.org do not personally endorse or support any of the comments made within the writings of this article.